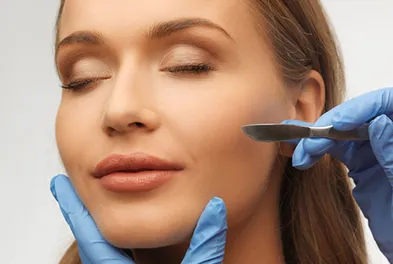 Dermaplaning
Also know as Dermal Leveling, Dermaplaning is a non-traumatic method of skin rejuvenation. It removes the outer most layers of dead skin using a surgical blade leaving the skin immediately smooth.

It involves using a tool with a short upward stroke while being held at a 45-degree angle to exfoliate the skin. With the angle at which the tool is held and the use of light feathering strokes by the technician, there is no worry about piercing the skin.
The technique may look similar to shaving your face, but it is much more effective due to the type of blade being used and offers many benefits. There is also no need to worry about the hair getting any darker; dermaplaning targets the vellus hair (peach fuzz) that grows back the same size and color. It is physiologically impossible to grow back thick and darker.
After the treatment, the technician may offer a hydrating moisturizer to finalize the process.
The treatment removes the dead skin that has built up over two to three weeks.
We recommend dermaplaning to anyone who is to undergo chemical peel treatment to allow better penetration and, therefore, better results.
What are the known benefits of Dermaplaning?
Dermaplaning provides an effective and safe exfoliation treatment that promotes deeper product penetration, boosting the effects of skin care products while making the skin look and feel smoother and reducing the appearance of acne scars.
This treatment also works to remove facial hair that can trap dirt and oils. It works on almost all skin types and provides near-instant results with no downtime.
This highly effective superficial exfoliation and priming skin for chemical peel creates a healthier, more radiant appearance instantly.
This treatment is also an option for those who are ineligible for other products or procedures, such as those who are pregnant or have very sensitive skin. Effective in clarifying and re-texturizing for all ages and skin types.
This treatment allows infusion of growth factors, peptides and amino acids.