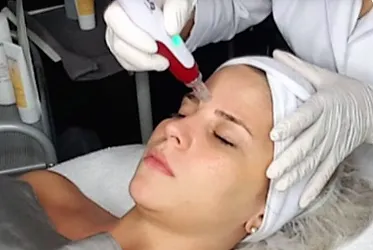 Microneedling (also known as collagen induction therapy) is one of our specialty, a most popular and very effective non-invasive treatment.
Microneedling involves using fine needles to create hundreds of tiny, invisible puncture wounds in the top layer of skin. This minimally invasive treatment is virtually painless and incredibly effective. The micro-injuries you create stimulates the body's natural wound healing processes, resulting in cell turnover and increased collagen and elastin production, therefore reversing as well as preventing signs of aging. 
The tiny punctures actually act like little channels, allowing topical products to penetrate better and work more effectively.
Who can be treated with microneedling?
The procedure can help reduce the appearance of skin concerns such as acne scars, stretch marks or wrinkles.
Microneedling help treat below conditions.
Reduce the fine lines and deep wrinkles
Repair visible scars 
Reverse sun damage and pigmentation 
Treatment of aging skin 
Help treat shrink pores
Treat skin discoloration or uneven skin tone.
 
Microneedling can be done all over your body. People with skin cancer, rosacea, active acne, diabetes or other critical conditions can not use microneedling treatment.

What are the benefits of microneedling?
Microneedling can help improve the appearance and texture of your skin. It can minimize stretch marks, scars, wrinkles and other skin concerns.
It doesn't carry the risk of skin discoloration, unlike some facial rejuvenation procedures that use heat, light or lasers. This makes microneedling ideal for people with darker skin tones.
Can you treat other parts like Neck and back?
Yes, most people get microneedling on their face, but you can also get it on your legs, back, neck or other areas where you notice damaged or aging skin.
You'll probably need multiple treatments to achieve your desired results.